DescriptionAdditional InfoApplications
The Thunder is our biggest, most advanced ECU yet.
The Thunder is optimised for high end applications requiring maximum performance, flexibility and tuning control. The Thunder has more inputs, more outputs and more features than any other Link ECU.The Thunder isn't just serious about performance, it's obsessed.
SPEC OVERVIEW:
Inputs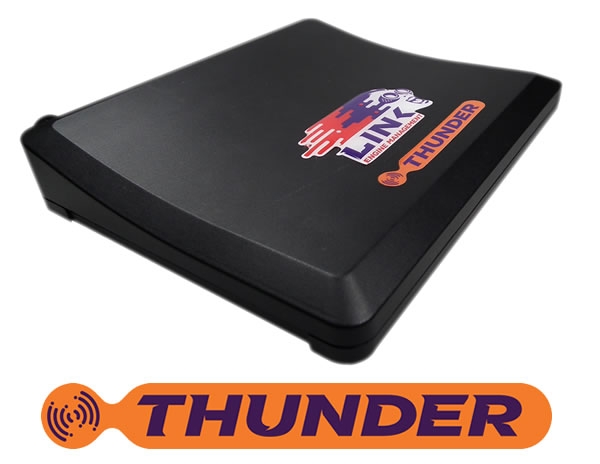 16 x Digital inputs
4 x Temperature inputs
16 x Analog inputs
2 x Trigger inputs
2 x Knock inputs
Outputs
8 x Injection drives
8 x Ignition drivers
18 x Auxiliary outputs
+5V Sensor power supply
+8V Sensor power supply
Communications
2 x Thirty four pin, waterproof connectors
2 x Twenty eight pin, waterproof connectors
2 x CAN bus
1x Serial (RS232) connection
1x USB tuning connection
Misc.
0 x 3 Axis Accelerometer – Lateral G (cornering), Longitudinal G (acceleration/braking), Vertical G.
2 x K-type Onboard Thermocouple Inputs meaning high accuracy for high temperature situations e.g. exhaust gas temperature sensing.
2 x Digital Wideband Onboard
2 x E-throttle Controllers – for engines that have twoelectronic throttle bodies.
2 x Knock Control Inputs – monitor each bank on a V engine.
16 x Digital Inputs – six can be differential reluctor (speed sensor) – ABS wheel speed sensors
16 x Analogue Inputs – Temperature, Pressure, Position.
18 x Auxiliary Outputs – Lights, solenoids, gauges, switches, relays etc.
Plus all other G4+ features including all Motorsport, Logging and CAN features, Peak and Hold and Digital Wideband.
All Link ECUs (Engine Control Units) are 100% New Zealand designed and developed. We also offer a limited lifetime warranty so if your ECU breaks in the normal course of its designed use then we'll repair or replace, no questions asked.
Description

The Thunder is our biggest, most advanced ECU yet.

The Thunder is optimised for high end applications requiring maximum performance, flexibility and tuning control. The Thunder has more inputs, more outputs and more features than any other Link ECU.The Thunder isn't just serious about performance, it's obsessed.

SPEC OVERVIEW:

Inputs

16 x Digital inputs
4 x Temperature inputs
16 x Analog inputs
2 x Trigger inputs
2 x Knock inputs

Outputs

8 x Injection drives
8 x Ignition drivers
18 x Auxiliary outputs
+5V Sensor power supply
+8V Sensor power supply

Communications

2 x Thirty four pin, waterproof connectors
2 x Twenty eight pin, waterproof connectors
2 x CAN bus
1x Serial (RS232) connection
1x USB tuning connection

Misc.

0 x 3 Axis Accelerometer – Lateral G (cornering), Longitudinal G (acceleration/braking), Vertical G.
2 x K-type Onboard Thermocouple Inputs meaning high accuracy for high temperature situations e.g. exhaust gas temperature sensing.
2 x Digital Wideband Onboard
2 x E-throttle Controllers – for engines that have twoelectronic throttle bodies.
2 x Knock Control Inputs – monitor each bank on a V engine.
16 x Digital Inputs – six can be differential reluctor (speed sensor) – ABS wheel speed sensors
16 x Analogue Inputs – Temperature, Pressure, Position.
18 x Auxiliary Outputs – Lights, solenoids, gauges, switches, relays etc.
Plus all other G4+ features including all Motorsport, Logging and CAN features, Peak and Hold and Digital Wideband.

All Link ECUs (Engine Control Units) are 100% New Zealand designed and developed. We also offer a limited lifetime warranty so if your ECU breaks in the normal course of its designed use then we'll repair or replace, no questions asked.

Applications