DescriptionAdditional InfoApplications
The Force GDI is our first ECU built specially to control Gasoline Direct Injection engines.
As well as full GDI control, the Force GDI offers on-board digital wideband, E-throttle control, high voltage injector and high pressure fuel pump management, plus all the other features you have come to expect from one of Link's world leading ECUs.The Force GDI is running on our proven Link G4+ platform, so you know it is going to work right out of the box.
SPEC OVERVIEW:
Inputs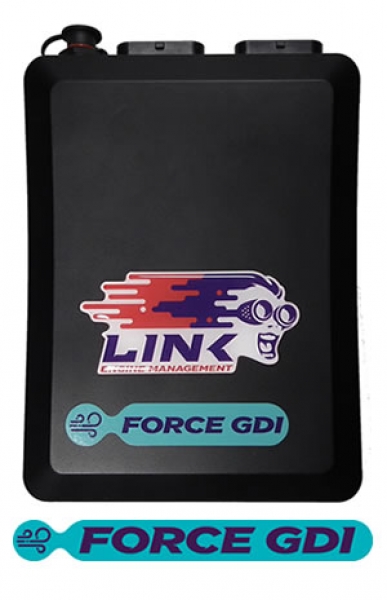 8/10* x Digital inputs
4 x Temperature inputs
11 x Analog inputs
2 x Trigger inputs
2 x Knock inputs
*2 inputs required when using 2nd CAN Bus
Outputs
4 x High voltage injector drivers (60V 10/5A Peak/Hold Current).
4 x Ignition drivers
10 x Auxiliary outputs
+5V Sensor power supply
+8V Sensor power supply
Communications
2 x Thirty four pin, waterproof connectors
1 x CAN bus
1 x Serial (RS232) connection
1 x USB tuning connection
Misc.
1x Ethrottle controller
Onboard wideband lambda controller
Onboard barometric pressure sensor
32Mb (4 MByte) of logging memory
Trigger scope hardware
Runs on PC Link software
Uses G4+ Motorsport, Logging and CAN features
All Link ECUs (Engine Control Units) are 100% New Zealand designed and developed. We also offer a limited lifetime warranty so if your ECU breaks in the normal course of its designed use then we'll repair or replace, no questions asked.
Description

The Force GDI is our first ECU built specially to control Gasoline Direct Injection engines.

As well as full GDI control, the Force GDI offers on-board digital wideband, E-throttle control, high voltage injector and high pressure fuel pump management, plus all the other features you have come to expect from one of Link's world leading ECUs.The Force GDI is running on our proven Link G4+ platform, so you know it is going to work right out of the box.

SPEC OVERVIEW:

Inputs

8/10* x Digital inputs
4 x Temperature inputs
11 x Analog inputs
2 x Trigger inputs
2 x Knock inputs

*2 inputs required when using 2nd CAN Bus

Outputs

4 x High voltage injector drivers (60V 10/5A Peak/Hold Current).
4 x Ignition drivers
10 x Auxiliary outputs
+5V Sensor power supply
+8V Sensor power supply

Communications

2 x Thirty four pin, waterproof connectors
1 x CAN bus
1 x Serial (RS232) connection
1 x USB tuning connection

Misc.

1x Ethrottle controller
Onboard wideband lambda controller
Onboard barometric pressure sensor
32Mb (4 MByte) of logging memory
Trigger scope hardware
Runs on PC Link software
Uses G4+ Motorsport, Logging and CAN features

All Link ECUs (Engine Control Units) are 100% New Zealand designed and developed. We also offer a limited lifetime warranty so if your ECU breaks in the normal course of its designed use then we'll repair or replace, no questions asked.

Applications