DescriptionAdditional InfoApplications
If it is Onboard Digital Wideband you are after, then the Fury is the ECU for you.
Like the Xtreme, the Fury offers all the features you have come to expect from one of Link's world leading premium ECU's, but with Digital wideband. The Fury is optimised for engines with 6 cylinders or less and 3 Rotor engines. If you want to gain an advantage over the competition, you'll want a premium ECU like the Fury.
SPEC OVERVIEW:
Inputs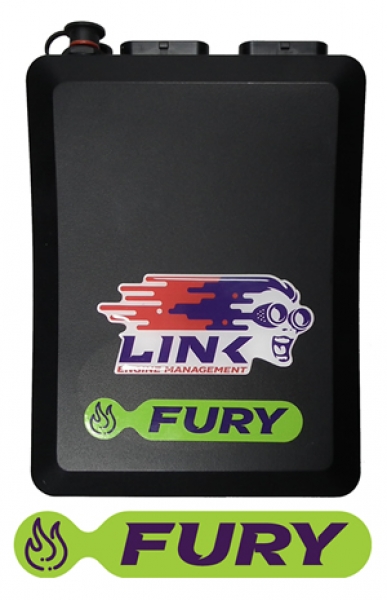 8/10* x Digital inputs
4 x Temperature inputs
9 x Analog inputs
2 x Trigger inputs
2 x Knock inputs
*2 inputs required when using 2nd CAN Bus
Outputs
8 x Injection drives
6 x Ignition drivers
10 x Auxiliary outputs
+5V Sensor power supply
+8V Sensor power supply
Communication
2 x Thirty four pin, waterproof connectors
1 x CAN bus
1x Serial (RS232) connection
1x USB tuning connection
Misc.
Digital Wideband – superior onboard wideband controlgiving simple and accurate fuel tuning.
Optimised for Six Cylinder / 3 Rotor Engines – the G4+ Fury has 6 x ignition outputs and 8 x fuel outputs.
Fully programmable e-throttle control complete with gearshift control and throttle blips.
CAN is user defined and supports two independent CAN modules.
Onboard Knock Control – support for two knock sensorswired directly to the ECU. No external amplifier required.
30 General Purpose Tables and many dedicated tables.
100 channels of logging.
32Mb (4 MByte) of logging memory.
Built in trigger oscilloscope.
Mixture map, closed loop fuel correction.
OBDII output stream – send engine data to your tablet or phone using an OBDII to wifi/bluetooth adaptor (not included).
All Link ECUs (Engine Control Units) are 100% New Zealand designed and developed. We also offer a limited lifetime warranty so if your ECU breaks in the normal course of its designed use then we'll repair or replace, no questions asked.
Description

If it is Onboard Digital Wideband you are after, then the Fury is the ECU for you.

Like the Xtreme, the Fury offers all the features you have come to expect from one of Link's world leading premium ECU's, but with Digital wideband. The Fury is optimised for engines with 6 cylinders or less and 3 Rotor engines. If you want to gain an advantage over the competition, you'll want a premium ECU like the Fury.

SPEC OVERVIEW:

Inputs

8/10* x Digital inputs
4 x Temperature inputs
9 x Analog inputs
2 x Trigger inputs
2 x Knock inputs

*2 inputs required when using 2nd CAN Bus

Outputs

8 x Injection drives
6 x Ignition drivers
10 x Auxiliary outputs
+5V Sensor power supply
+8V Sensor power supply

Communication

2 x Thirty four pin, waterproof connectors
1 x CAN bus
1x Serial (RS232) connection
1x USB tuning connection

Misc.

Digital Wideband – superior onboard wideband controlgiving simple and accurate fuel tuning.
Optimised for Six Cylinder / 3 Rotor Engines – the G4+ Fury has 6 x ignition outputs and 8 x fuel outputs.
Fully programmable e-throttle control complete with gearshift control and throttle blips.
CAN is user defined and supports two independent CAN modules.
Onboard Knock Control – support for two knock sensorswired directly to the ECU. No external amplifier required.
30 General Purpose Tables and many dedicated tables.
100 channels of logging.
32Mb (4 MByte) of logging memory.
Built in trigger oscilloscope.
Mixture map, closed loop fuel correction.
OBDII output stream – send engine data to your tablet or phone using an OBDII to wifi/bluetooth adaptor (not included).

All Link ECUs (Engine Control Units) are 100% New Zealand designed and developed. We also offer a limited lifetime warranty so if your ECU breaks in the normal course of its designed use then we'll repair or replace, no questions asked.

Applications