DescriptionAdditional InfoApplications
Link are redefining what an entry level ECU should be.
The Atom now comes in a brand new enclosure, beautifully crafted from glass filled nylon.The stylish new enclosure is designed to IP67 standards, making it dust and waterproof. Running on the proven Link G4+ platform and being completely waterproof,Link are redefining what an entry level ECU should be. The Atom is ideal for naturally aspirated engines with 4 cylinders or less that just need a repowerand don't need all the extra sensors and features that come with our higher level ECUs.
SPEC OVERVIEW:
Input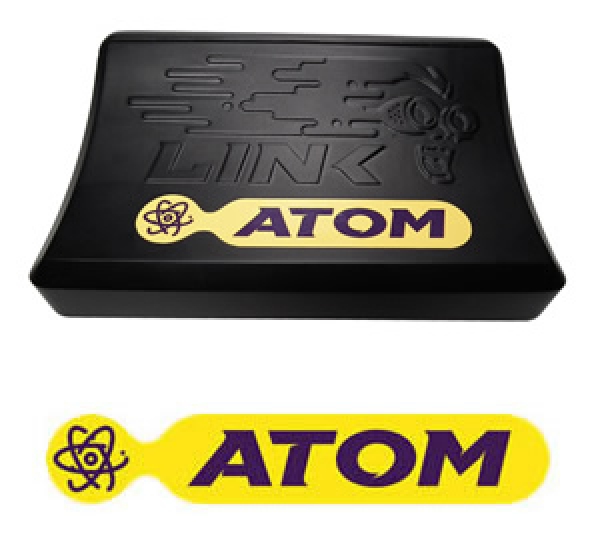 2 x Digital inputs
2 x Temperature inputs
3 x Analog inputs
2 x Trigger inputs
Outputs
4 x Injection drives
4 x Ignition drivers
4 x Auxiliary outputs*
+5V Sensor power supply
Communications
1x CAN bus
1 x thirty four pin, waterproof connectors
1x USB tuning connection
Misc.
Onboard barometric pressure sensor
32Mb (4 MByte) of logging memory
20 general purpose tables
Runs on PC Link software
*unused ignition drives can also be used as auxiliary outputs
All Link ECUs (Engine Control Units) are 100% New Zealand designed and developed. We also offer a limited lifetime warranty so if your ECU breaks in the normal course of its designed use then we'll repair or replace, no questions asked.
Description

Link are redefining what an entry level ECU should be.

The Atom now comes in a brand new enclosure, beautifully crafted from glass filled nylon.The stylish new enclosure is designed to IP67 standards, making it dust and waterproof. Running on the proven Link G4+ platform and being completely waterproof,Link are redefining what an entry level ECU should be. The Atom is ideal for naturally aspirated engines with 4 cylinders or less that just need a repowerand don't need all the extra sensors and features that come with our higher level ECUs.

SPEC OVERVIEW:

Input

2 x Digital inputs
2 x Temperature inputs
3 x Analog inputs
2 x Trigger inputs

Outputs

4 x Injection drives
4 x Ignition drivers
4 x Auxiliary outputs*
+5V Sensor power supply

Communications

1x CAN bus
1 x thirty four pin, waterproof connectors
1x USB tuning connection

Misc.

Onboard barometric pressure sensor
32Mb (4 MByte) of logging memory
20 general purpose tables
Runs on PC Link software

*unused ignition drives can also be used as auxiliary outputs

All Link ECUs (Engine Control Units) are 100% New Zealand designed and developed. We also offer a limited lifetime warranty so if your ECU breaks in the normal course of its designed use then we'll repair or replace, no questions asked.

Applications